The season is a whole lot jollier when you stop to smell the candy canes.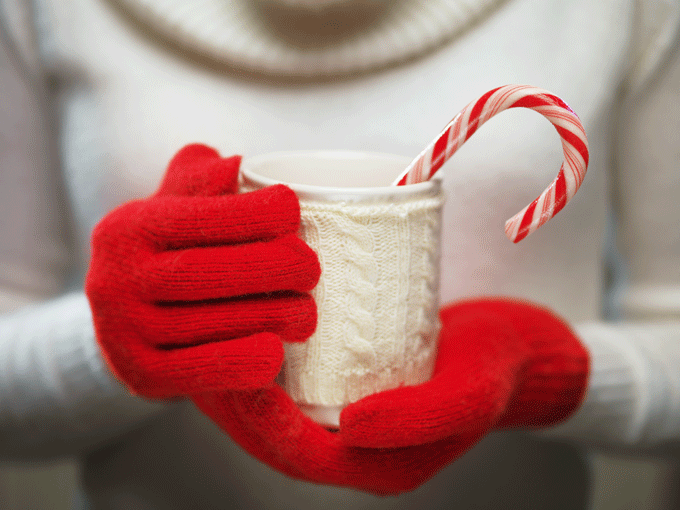 Before you wrap another present or bake more holiday cookies, promise yourself to take time out of your hectic schedule to do something nice for yourself. After all, you can't tackle that to-do list if you're suddenly knocked out with the flu.
Here, 10 ways to ensure a healthier, happier and more fulfilling holiday season.
1. Nourish your body. Resist the urge to stuff your pantry with holiday treats. Instead, keep an assortment of low-calorie, immunity-boosting snacks on hand. Soup is one staple to have in your cabinets all winter. It keeps you feeling warm and full (read: too full to snack an hour later), and it's a great way to load up on veggies and protein.
2. Take a timeout. When you're feeling frazzled, stop what you're doing, take some deep breaths and switch gears. Go for a run or walk, practice yoga, or meet up with a friend for coffee. You'll return to your tasks with a fresh perspective and renewed energy.
3. Pamper yourself. Take a little time during the day to pamper yourself—starting with your hands, which are probably taking a beating not just from the cold, but from all that baking and gift wrapping. Stock up on hand lotion and keep it near all the sinks in your home, and in your purse, to stay soft and sweet-smelling. We love Gloves In A Bottle ($18 at Walgreen's), Origins Rejuvenating Hand Treatment ($22) or L'Occitane Shea Butter Extra Gentle Lotion for Hands & Body ($26).
4. Delegate. For those of us who are a bit OCD, this can be tough, but try not to take it upon yourself to do absolutely everything. Have your significant other or your kids help too. Put them to work licking envelopes, mailing holiday cards or delivering goodies to the neighbors. Bonus points if you can get them out of the house for a while (holiday shopping, anyone?) and watch your own productivity soar.
5. Treat yourself. Shop for something you really want and buy it. Yes, it's the season of giving, but how often do you shop for yourself? We're talking about something you don't necessarily need, but damn it's pretty. Whether it's a beautiful scarf or that new eye palette from your favorite makeup counter, every time you put it on you'll feel fantastic.
6. Catch your Zs. Your mind is going a million miles an hour, so it's vital that you get enough shut-eye. Sleep allows your body to repair itself, strengthens your immune system, and keeps your metabolism at an optimal level. If you're having trouble dozing off at night, put away all the devices and read in bed to help yourself drift off.
7. Just say no. This one might be the hardest of all, but when you overcommit you set yourself up for too many negatives. If declining is not in your vocabulary, then break down the work. For example, if you promised to attend two Christmas parties on the same day, then stay at each party for only an hour or two. Most people will understand, and those who don't may not be worth the effort.
8. Don't attempt to please everyone. During this emotionally charged season, feelings can be more easily hurt and words may be taken out of context. Remember, we are all trying our best. It's important to stay true to the spirit of the season—to get together, be grateful for those in our lives, and create long-lasting memories.
9. Fight the urge for perfection. If your children are decorating gingerbread houses or helping you wrap gifts, allow them to do it themselves, their way. So what if tape gets stuck in everyone's hair or there's frosting in all the wrong places. Everyone will enjoy themselves and feel proud of their creations when you let go and enjoy these beautiful, messy moments.
10. Be present. Give the people you love your undivided attention for five minutes, and you'll see your mood elevate along with theirs. Share a glass of wine with your SO and ask him how his day was. Read a holiday story to a child in your life. Call your BFF and catch up on her family news.
It's easy to get caught up in the stress, but come January, the holidays will be a distant memory and you may even find yourself wondering how you ever got that stressed to begin with…Well, maybe.
Happy Holidays from Red Typewriter!