When it's too cold to go out, snuggle up inside with a red-hot read.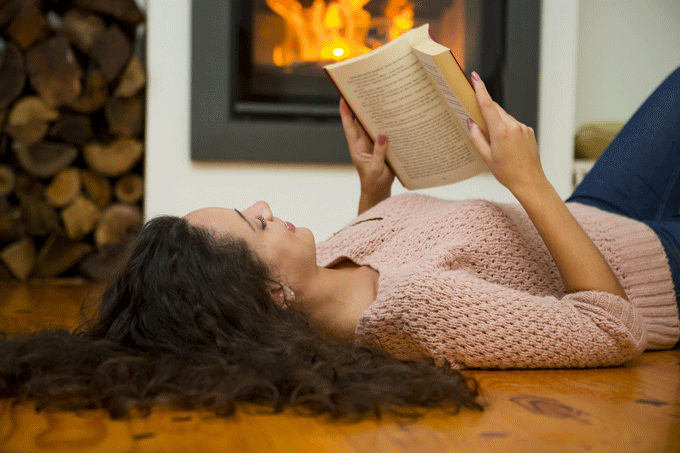 The crisp autumn air and frosty mornings are warning us of the long winter that lies ahead. As much as we might like to hibernate the way some animals do, a better way to endure the cold is to snuggle up next to a roaring fire with a good book and some tea, wine or whatever else warms our cockles. Here, 10 amazing reads to help get you through the chilly months.
1. Fates and Furies by Lauren Groff. Reminiscent of Gone Girl but written with a decidedly more poetic hand, this jigsaw puzzle of a story forces you think beyond the stereotypes we associate with the institution of marriage. The main characters are Lotto and Mathilde, a husband and wife who meet in college, endure lean times as Lotto fails at his acting career, then rocket to fame and fortune when he becomes a successful playwright. The first section of the book is told by Lotto, while Mathilde covers the second part to fill in any gaps and completely change the reader's perspective of what seemingly occurred in the first half. The question is, which character believes in fate and who cannot contain his or her fury?
2. The Coincidence Of Coconut Cake by Amy E. Reichert. If you are looking for a romantic read, then dive into this delectable book about a girl, Lou, who struggles with her personal and professional life as a chef and owner of a French restaurant in Milwaukee, WI. On one of her most challenging days, a British food critic dines at her establishment and writes a scathing review leaving her wondering when her bistro will close and offering him a chance at becoming more well known. One things leads to another in this story and an unexpected romance develops. Only time will tell if their relationship will remain strong when they both discover the truth about each other.
3. Brain On Fire: My Month of Madness by Susannah Cahalan. This true story, which is currently being translated into a film starring Chloe Grace Moretz, will leave you with chills and have you questioning your own brain and the way it works. The author had a dream job writing for the New York Post when she was suddenly overcome by a mental illness that sends her life spiraling out of control—and has doctors scratching their heads. The book covers the very long month during which Susannah suffered this terrifying ordeal. Our advice: Read the book before you see the movie.
4. The Mountain Story by Lori Lansens. Wolf is a teen that plans to kill himself in the mountains, but when he meets three women—a widower, a triathlete and a rebellious teen—his plans change as he tries to help them through the dangerous terrain and make it back down alive. The characters must dig deep for mental strength and physical endurance as the days pass and the conditions worsen. This story, told as a flashback to Wolf's son, has a surprise ending.
5. Slade House by David Mitchell. Set in a British town, this story is about a house that holds a deep secret that would alarm the locals if they were aware of it. Every nine years, the residents (a brother and sister) extend an invitation to a person who is lonely, depressed or withdrawn from society. At first, their guest doesn't want to leave, but by the time they discover what really goes on in this house, it's too late. This story, which spans 30 years, offers a fresh twist on the haunted house horror story.
6. The Man Who Spoke Snakish by Andrus Kivirahk. This book became so popular in Estonia that it was turned it into a board game. Now, translated into English, the novel sweeps us into a story about a boy named Leemet who lives in a primitive village and is the last to speak the native language, Snakish, which allows him to control woodland creatures. A fantasy fable that has bears, frogs and a louse, this tale will take you to a place you could never imagine on your own. The author also describes a 13th-century Estonia so well that readers will want to visit this country for themselves.
7. Dead Wake: The Last Crossing of the Lusitania by Erik Larson. From the author of The Devil In The White City, Erik Larson's new historical nonfiction concerns itself with the sinking of the passenger ship Lusitania, which in 1915 was hit by a German torpedo between England and Ireland, resulting in the death of 1,198 passengers and crew. Larson has a knack for intertwining characters and telling a story from different perspectives, and his latest endeavor is a suspenseful and engaging read. Readers will particularly enjoy discovering little-known details of the incident that are both riveting and revealing.
8. The Heart You Carry Home by Jennifer Miller. Becca's father, King, is a Vietnam vet who has struggled with Post-Traumatic Stress Disorder (PTSD), leaving her and her mother to live without his presence most of the time. Now, Becca is engaged to a soldier just returning from his second tour, and her mother tries to prevent her from making the same mistake she did. When her fiancé turns violent, Becca runs to her father for advice. Although some parts of the story seem far-fetched, the book takes you on an unexpected journey into the minds of those suffering from PTSD and sheds light on a topic that is rarely addressed.
9. All The Houses by Karen Olsson. Helen Atherton is living in L.A. and not having much success as a screenplay writer. After her father suffers a heart attack, she returns to Washington, D.C., to take care of him. While she is home, she uncovers things about her father's past in politics, specifically how he was involved in the Iran-Contra Affair—and how that entanglement led to her parents' divorce. This book is a great examination of the relationship between father and daughter, as well as internal family issues among siblings.
10. The Nightingale by Kristin Hannah. This is the story of two sisters living in France during WWII. Vianne, the eldest, watches as her husband leaves to fight at the Front. She must take care of their son and make some unimaginable choices as enemies invade their town and her home. The younger sister, Isabelle, falls in love with a man who wants to fight the Germans within France. After he betrays her, Isabelle joins the rebellion and learns the consequences and realities of war.