Jazz up lunchtime with one of these stylish totes.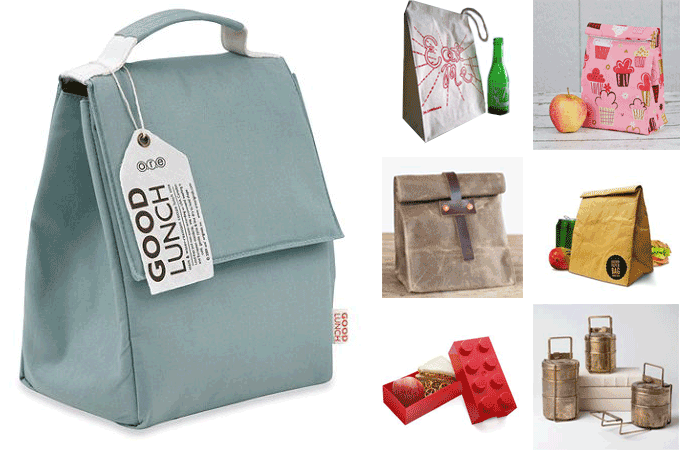 You have a busy life, and packing a lunch shaves precious time off your morning routine. On the flip side, it's so easy to fall into the habit of buying lunch every day, and those restaurant and take-out bills can add up. So what's a hungry working girl or a frantic mom to do? There's no reason you can't outfit some soup, salad or a sandwich as fashionably and intelligently as you do yourself (or your little ones). All you need are some fun, reusable containers to up the lunchtime style quotient.
Luckily, those old metal boxes and plastic monstrosities have gone the way of the rotary phone. The newest lunch totes are eco-friendly, versatile and pretty. So you won't mind spending a few extra minutes packing up a meal for you, your kids or a significant other. Bon appétit!
It's a Wrap: Above, clockwise from far left: Sugarbooger Good Lunch Sack by o.r.e. at Bed Bath & Beyond, $18. "Eat Me!" eco-friendly tote from Oh Little Rabbit at etsy.com, $16. "Pick Your Fabric" lunch bag by Willow Handmade at etsy.com. Luckies of London reusable brown lunch bag at Amazon.com, $20. Tiffin box by Global Views at Domino.com, $200, currently unavailable. Lego lunch box at Amazon.com, $17. Waxed canvas lunch tote #215 from ArtifactBags.com, $65.
For more luscious lunch boxes, visit Red Typewriter's Pinterest Page.