We've got you covered with the season's hottest runway trends.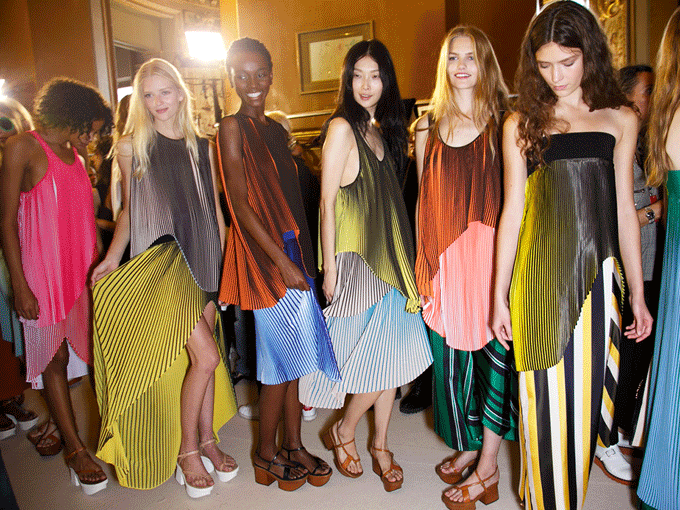 Finally! Spring fashions are starting to trickle into your favorite stores, just in time for warmer weather. Before you go shopping, here's a breakdown of the top 10 looks that will be vying for your attention.
PHOTO COLLAGES BY INGA LIM.
1. Bedtime Stories. Lingerie-inspired duds are all the rage this spring. From slip dresses in luxurious fabrics, to silky pantsuits that feel like your favorite PJs, these bedtime-worthy looks are comfy and sexy at the same time.
2. Latin Love. Many designers have added Spanish sizzle to their collections. Look for fiery shades of red, tiered Flamenco ruffles and other fiesta-ready fashions.
3. Cold Shoulders: As Donna Karan once said, if there's one part of the body every woman feels comfortable flaunting, it's her shoulders. This season offers many shoulder-baring options, from strapless and one-shoulder dresses and tops, to strategically placed cut-outs.
4. Feminine Frocks: Pretty, lightweight fabrics and playful details are working their way into your warm-weather wardrobe. Nothing says "spring" more than a floral chiffon blouse or a sheer, flowing dress with sheer panels.
5. Flash Dance. Sequins and shiny finishes take center stage this season, for both day and night. Look for reflective leathers, lamé and crinkled silks—especially in futuristic silver.
6. Vintage Mashup. You're no stranger to vintage. But this time around, designers encourage you to throw together a hodgepodge of trends from a variety of eras, concocting a retro style that's all your own.
7. Sassy Stripes: Every spring, nautical stripes seem to make a reappearance. But these vertical visions are bolder than ever before, in unexpected color combos that suggest "circus" or "amusement park" more than "sailor girl."
8. Distinct Denim. By now, we all can appreciate that skinny jeans are taking a hiatus. But after a season of 1970s flares, watch for slouchy, high-waisted, '90s-inspired denim. Patchwork details and floor-grazing skirts are especially on trend.
9. Dye Job. No longer just for T-shirts, tie-dye is the latest street trend to be revived on the runways. Expect to see a kaleidoscope of tie-dye seeping its way into everything from sexy evening dresses to silk blouses.
10. Big Plaid: Designers are serving up supersize versions of this iconic print, infusing the look with fresh colors and larger, more abstract patterns. Finally, a slightly uppity classic rocks a decidedly downtown vibe.