Spend the holidays with those you love—not mountains of debt.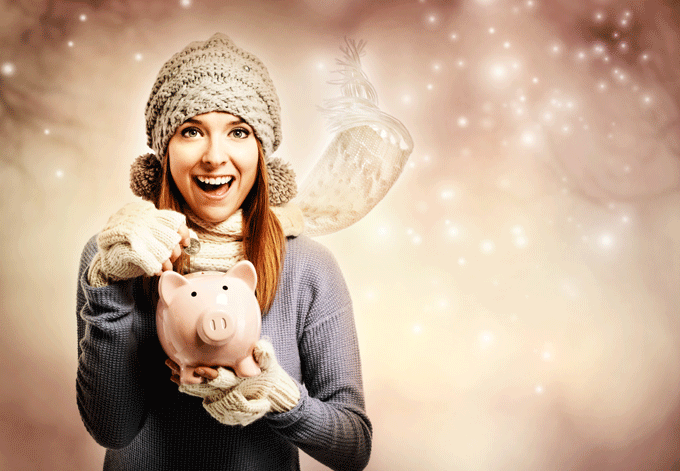 'Tis the season when it's easy to give in to the vicious cycle of overspending and then stressing about the debt you've acquired. Well, we've got 10 simple ways for you to cut back this year. Warning: Some of them require that you defy holiday tradition and perhaps irk a few people, but it's worth it if you want to keep your checkbook balanced through January!
1. Forget traditional holiday cards. Years ago, when those first brazen friends began posting holiday greetings online, or, even more scandalous, emailing them to 500 friends, it seemed tacky. Now, many people are going digital—even those folks who also send printed cards. While I still love sending holiday greetings via snail mail, cutting postage costs and reducing my carbon footprint seems like a wise idea.
2. Go for long-haul decorations. This past October, instead of putting dozens of Halloween decorations around my house, I limited myself to a few pumpkins and harvest adornments. When Thanksgiving approached, the garnishes were still relevant and actually stayed up until the end of November. In December, go with winter-themed ornaments (instead of Santas and reindeer) that will take you through the spring thaw.
3. Do wardrobe double duty. Got several holiday parties to dress up for? Don't max out your credit card. Instead, buy one killer sheath dress or jumpsuit that can take you from day to evening and morph into several looks with a simple swap of accessories. For example, for a holiday lunch, wear a dress with tights, pumps and a scarf. For evening, dress it up with strappy platform sandals, sparkly earrings and a colorful clutch. Throw on a faux-fur stole or a long tuxedo jacket, or swap the shoes for sexy over-the-knee boots for a totally different look at your next soiree.
4. Skip the presents. Have you been afraid to tell certain long-distance family members that you'd like to discontinue the expensive gift exchange? Well, this is the year that you grow a pair and make the phone call. Maybe that relative is thinking the same thing, and she'd be relieved to pare down her list too. You can also suggest scaling back—for instance, only buying for the kids, or having each person pick a name out of a hat so that they're purchasing only one present.
5. Buy in bulk. Even if you are shunning all gift swaps, sometimes you just need a hostess gift or a last-minute present for someone who stops by your house, invites you over for a holiday gathering, or has simply been so wonderful that you'd like to show your gratitude. Consider buying an entire case of wine so you have 12 bottles on hand for potential gifts, stopping at your local warehouse store to stock up on pre-wrapped holiday candies, tea or coffee; or keeping a stack of your favorite holiday book (purchased at a discount at Amazon.com) in your closet for a great impromptu present. For more great hostess gift ideas, visit Red Typewriter's Pinterest page.
6. Give up channeling Betty Crocker. When the holidays arrive, there's pressure to whip up fancy holiday meals and treats. Unless you absolutely love to cook and have tons of money to spend on gourmet goods, this can be overwhelming. Instead, plan ahead and purchase frozen appetizers, baking supplies and other party ingredients when they go on sale and store them for later holiday entertaining. If it's time you're looking to save, buy pre-cut cookies to decorate, instead of making them from scratch.
7. Party like it's 2999. You wouldn't be killing yourself if it were, right? You'd be spending time and having a great time with the ones you love. So this year, do more of that and less stressing over the perfect fete. Think easy and simple, and don't be afraid to defy tradition and—gasp!—suggest something other than a formal sit-down dinner, even if your crew has been doing that for ages. Consider a potluck, a Christmas morning brunch, or a wine-and-cheese tree-trimming party.
8. Get out of town. Many airfare deals are to be had if you leave on Christmas day, instead of the week before the holiday. It's not so bad: You can get up early, have a hearty breakfast, open the presents, and then head to the airport. For last-minute travel deals, check out Kayak.com, which culls data from more than 400 airlines and lets you compare multiple travel sites at once, or Expedia.com's Last Minute Deals page.
9. Skip the Big New Year's Eve Bash. This holiday irritates some folks as much as Valentine's Day, not only because of the pressure to have a date, but also because of the extraordinary markups that restaurants, hotels and concert venues feel obliged to charge for this one night. One year my boyfriend and I spent $500 on two tickets to a supposedly elegant New Year's Eve affair in Manhattan that ended up being packed wall-to-wall with people drinking out of plastic cups. Our best New Year's Eves have been spent at small house parties with good friends, or snuggling up next to the fire with wine and a movie.
10. Gear up for next year. Just because you're doing less work and having more fun doesn't mean you can't plan ahead. The irony is that a little planning makes this new laissez-faire attitude of yours more feasible. Store decorations and other reusable holiday stuff in your garage or attic, so you can quickly pull everything out next year and don't have to buy everything from scratch. Don't forget to save leftover wrapping paper and ribbon so you can reuse next year.